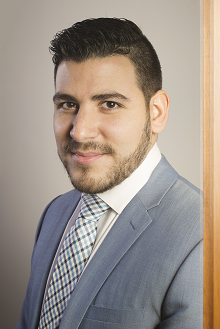 Carlos Bolivar is a lawyer with the firm of Cormier Simard. Mr Bolivar speaks Spanish, English and French. He graduated from the Université de Montréal and was highly involved in social issues during his studies, especially in the Criminal Law Committee. While completing his BA, he acquired experience in customer service through his work for large Montreal-based corporations.
His art of persuasion make him stand out during any negotiation. He has a passion for criminal law and does not hesitate to develop all possible legal scenarios that can lead to acquitting clients. Mr Bolivar often appeals to arguments based on violationns of his clients' constitutional rights, for instance arbitrary detention, illegal seizure or violation of the right to counsel.
Mr Bolivar's legal services are particularly appreciated within the Latino community in Montreal because he is fluent in Spanish.